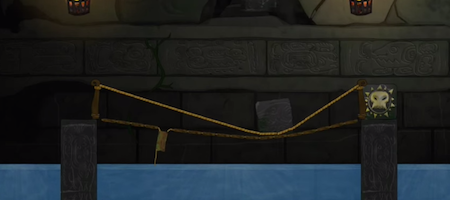 Is it possible to make a rope in Sprite Kit with  SKPhysicsJoints? The simple answer: sure! you just have to make a lot of small single SKPhysicsBodies and connect them with SKPhysicsJointPins. As you can see in the little demo video we also added bigger pieces below the rope to simulate a whole suspension bridge. To make a rope with single parts connected with pinned joints you don't even need so much jointed elements. Just let the sprite overlap a bit the physics body to make it look very real.
We also added an element which breaks the joints chain when the collision of the SKPhysicsBody is true.
So here comes the code. The methods are separated into two parts. First part is the ground of the bridge. It iterates through n given times to create and pin little SKPhysicsBodies. Also the "breaking" element is made into this loop. And last but not least the left and right anchors are set to tie the whole bridge up. The second method creates the rope elements an add it also to this anchors.
1

2

3

4

5

6

7

8

9

10

11

12

13

14

15

16

17

18

19

20

21

22

23

24

25

26

27

28

29

30

31

32

33

34

35

36

37

38

39

40

41

42

43

44

45

46

47

48

49

50

51

52

53

54

55

56

57

58

59

60

61

62

63

64

65

66

67

68

69

70

71

72

73

74

75

76

77

78

79

80

81

82

83

84

85

86

87

88

89

90

91

92

93

94

95

96

97

98

99

100

101

102

103

104

105

106

107

108

109

110

111

112

113

114

115

116

117

118

119

120

121

122

123

124

125

126

127

128

129

130

131

132

133

134

135

136

137

138

139

140

141

142

143

144

145

146

147

148

149

150

151

152

153

154

155

156

157

158

159

160

161

162

163

164

165

166

167

168

169

170

171

172

173

174

175

176

177

178

179

180

181

182

183

184

185

186

187

188

189

190

191

192

193

194

195

196

// Created by zinne on 29.11.13.

// Copyright (c) 2013 waveworks. All rights reserved.

#import "WWSuspensionBrigde.h"

@implementation

WWSuspensionBrigde

+

(

void

)

add

:

(

CGPoint

)

leftStartPosition

countJointElements

:

(

int

)

countJointElements

breakableItem

:

(

int

)

breakableItem

breakableItem

=

breakableItem

-

1

;

SKSpriteNode

*

leftAnchor

=

[

SKSpriteNode

spriteNodeWithImageNamed

:

@"dummypixel_transparent.png"

]

;

leftAnchor

.

position

=

leftStartPosition

;

leftAnchor

.

size

=

CGSizeMake

(

1

,

1

)

;

leftAnchor

.

physicsBody

=

[

SKPhysicsBody

leftAnchor

.

physicsBody

.

affectedByGravity

=

false

;

leftAnchor

.

physicsBody

.

mass

=

99999999999

;

leftAnchor

.

name

=

@"suspensionBridgeAnchorLeft"

;

[

game

addChild

:leftAnchor

]

;

SKSpriteNode

*

leftSpriteAnchor

=

[

SKSpriteNode

spriteNodeWithImageNamed

:

@"suspensionbridge_anchor_left.png"

]

;

leftSpriteAnchor

.

position

=

CGPointMake

(

leftStartPosition

.

x

-

10

,

leftStartPosition

.

y

+

37

)

;

leftSpriteAnchor

.

size

=

CGSizeMake

(

20

,

70

)

;

leftSpriteAnchor

.

zPosition

=

6

;

leftSpriteAnchor

.

name

=

@"suspensionBridgeBarLeft"

;

[

game

addChild

:leftSpriteAnchor

]

;

for

(

int

i

=

0

;

i

<

countJointElements

;

i

++

)

{

if

(

i

==

breakableItem

)

{

itemName

=

[

NSString

stringWithFormat

:

@"%d_breakableSuspensionBridgeItem"

,

bridgeId

]

;

itemFile

=

@"suspensionbridge_broken_item.png"

;

itemName

=

[

NSString

stringWithFormat

:

@"%d_item_%d"

,

bridgeId

,

i

]

;

int

rndNumber

=

arc4random

(

)

%

2

;

itemFile

=

@"suspensionbridge_item.png"

;

itemFile

=

@"suspensionbridge_item2.png"

;

SKSpriteNode

*

item

=

[

SKSpriteNode

spriteNodeWithImageNamed

:itemFile

]

;

item

.

position

=

CGPointMake

(

leftStartPosition

.

x

+

(

i

*itemJointWidth

)

+

itemJointWidth

/

2

,

leftStartPosition

.

y

)

;

item

.

size

=

CGSizeMake

(

itemJointWidth

,

5

)

;

item

.

physicsBody

=

[

SKPhysicsBody

if

(

i

==

breakableItem

)

{

item

.

size

=

CGSizeMake

(

48

/

1.7

,

143

/

2

)

;

item

.

anchorPoint

=

CGPointMake

(

0.48

,

0.98

)

;

//Add Joint to the element before

bodyA

=

leftAnchor

.

physicsBody

;

bodyA

=

[

game

childNodeWithName

:

[

NSString

stringWithFormat

:

@"%d_item_%d"

,

bridgeId

,

i

-

1

]

]

.

physicsBody

;

if

(

i

==

breakableItem

+

1

)

{

bodyA

=

[

game

childNodeWithName

:

[

NSString

stringWithFormat

:

@"%d_breakableSuspensionBridgeItem"

,

bridgeId

]

]

.

physicsBody

;

SKPhysicsJointPin

*

joint

=

[

SKPhysicsJointPin

jointWithBodyA

:bodyA

bodyB

:item

.

physicsBody

anchor

:CGPointMake

(

(

item

.

position

.

x

-

item

.

size

.

width

/

2

)

+

5

,

item

.

position

.

y

)

]

;

[

game

.

physicsWorld

addJoint

:joint

]

;

SKSpriteNode

*

rightAnchor

=

[

SKSpriteNode

spriteNodeWithImageNamed

:

@"dummypixel_transparent.png"

]

;

rightAnchor

.

position

=

CGPointMake

(

(

leftStartPosition

.

x

+

(

countJointElements

*itemJointWidth

)

)

,

leftStartPosition

.

y

)

;

rightAnchor

.

size

=

CGSizeMake

(

1

,

1

)

;

rightAnchor

.

zPosition

=

6

;

rightAnchor

.

physicsBody

=

[

SKPhysicsBody

rightAnchor

.

physicsBody

.

affectedByGravity

=

false

;

rightAnchor

.

physicsBody

.

mass

=

99999999999

;

rightAnchor

.

name

=

@"suspensionBridgeAnchorRight"

;

[

game

addChild

:rightAnchor

]

;

SKSpriteNode

*

rightSpriteAnchor

=

[

SKSpriteNode

spriteNodeWithImageNamed

:

@"suspensionbridge_anchor_right.png"

]

;

rightSpriteAnchor

.

position

=

CGPointMake

(

(

leftStartPosition

.

x

+

(

countJointElements

*itemJointWidth

)

)

+

7

,

leftStartPosition

.

y

+

37

)

;

rightSpriteAnchor

.

size

=

CGSizeMake

(

20

,

70

)

;

rightSpriteAnchor

.

zPosition

=

6

;

rightSpriteAnchor

.

name

=

@"suspensionBridgeBarRight"

;

[

game

addChild

:rightSpriteAnchor

]

;

SKPhysicsJointPin

*

jointLast

=

[

SKPhysicsJointPin

jointWithBodyA

:

[

game

childNodeWithName

:

[

NSString

stringWithFormat

:

@"%d_item_%d"

,

bridgeId

,

countJointElements

-

1

]

]

.

physicsBody

bodyB

:rightAnchor

.

physicsBody

anchor

:rightAnchor

.

position

]

;

[

game

.

physicsWorld

addJoint

:jointLast

]

;

[

self

addRopeJointItems

:leftStartPosition

countJointElements

:countJointElements

+

(

void

)

addRopeJointItems

:

(

CGPoint

)

leftStartPosition

countJointElements

:

(

int

)

countJointElements

SKSpriteNode

*

leftAnchor

=

[

SKSpriteNode

spriteNodeWithImageNamed

:

@"dummypixel_transparent.png"

]

;

leftAnchor

.

position

=

CGPointMake

(

leftStartPosition

.

x

,

leftStartPosition

.

y

)

;

leftAnchor

.

size

=

CGSizeMake

(

1

,

1

)

;

leftAnchor

.

physicsBody

=

[

SKPhysicsBody

leftAnchor

.

physicsBody

.

affectedByGravity

=

false

;

leftAnchor

.

physicsBody

.

mass

=

99999999999

;

leftAnchor

.

name

=

@"suspensionBridgeRopeAnchorLeft"

;

[

game

addChild

:leftAnchor

]

;

for

(

int

i

=

0

;

i

<

countJointElements

;

i

++

)

{

SKSpriteNode

*

item

=

[

SKSpriteNode

spriteNodeWithImageNamed

:

@"suspensionrope.png"

]

;

item

.

name

=

[

NSString

stringWithFormat

:

@"%d_ropeitem_%d"

,

bridgeId

,

i

]

;

item

.

position

=

CGPointMake

(

leftStartPosition

.

x

+

(

i

*itemJointWidth

)

+

itemJointWidth

/

2

,

leftStartPosition

.

y

+

60

)

;

item

.

size

=

CGSizeMake

(

itemJointWidth

+

5

,

5

)

;

item

.

physicsBody

=

[

SKPhysicsBody

item

.

physicsBody

.

categoryBitMask

=

kNilOptions

;

//Add Joint to the element before

bodyA

=

leftAnchor

.

physicsBody

;

bodyA

=

[

game

childNodeWithName

:

[

NSString

stringWithFormat

:

@"%d_ropeitem_%d"

,

bridgeId

,

i

-

1

]

]

.

physicsBody

;

SKPhysicsJointPin

*

joint

=

[

SKPhysicsJointPin

jointWithBodyA

:bodyA

bodyB

:item

.

physicsBody

anchor

:CGPointMake

(

(

item

.

position

.

x

-

item

.

size

.

width

/

2

)

+

5

,

item

.

position

.

y

)

]

;

[

game

.

physicsWorld

addJoint

:joint

]

;

SKSpriteNode

*

rightAnchor

=

[

SKSpriteNode

spriteNodeWithImageNamed

:

@"dummypixel_transparent.png"

]

;

rightAnchor

.

position

=

CGPointMake

(

(

leftStartPosition

.

x

+

(

countJointElements

*itemJointWidth

)

)

,

rightAnchor

.

size

=

CGSizeMake

(

1

,

1

)

;

rightAnchor

.

zPosition

=

6

;

rightAnchor

.

physicsBody

=

[

SKPhysicsBody

rightAnchor

.

physicsBody

.

affectedByGravity

=

false

;

rightAnchor

.

physicsBody

.

mass

=

99999999999

;

rightAnchor

.

physicsBody

.

categoryBitMask

=

kNilOptions

;

rightAnchor

.

name

=

@"suspensionBridgeRopeAnchorRight"

;

[

game

addChild

:rightAnchor

]

;

SKPhysicsJointPin

*

jointLast

=

[

SKPhysicsJointPin

jointWithBodyA

:

[

game

childNodeWithName

:

[

NSString

stringWithFormat

:

@"%d_ropeitem_%d"

,

bridgeId

,

countJointElements

-

1

]

]

.

physicsBody

bodyB

:rightAnchor

.

physicsBody

anchor

:rightAnchor

.

position

]

;

[

game

.

physicsWorld

addJoint

:jointLast

]

;