Mentioned on Gameskeys – Top Games To Try Out on IOS Devices in January 2021
Jump! Jump! Jump! …How long can you keep PoBo alive?
PoBo Jump is a mini-game teaser: A sneak preview from the forthcoming epic adventure-puzzle "Free PoBo".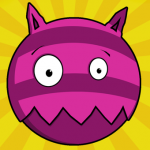 So hit the app store, Free PoBo features a multitude of atmospheric worlds, with tons of levels and gorgeous graphics. Beware of holes, water, fire, abysses and lots of other swinging, bouncing and shooting obstacles… they'll all kill you!