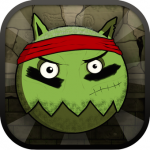 Tomb Roller, the challenging arcade-adventure now available on the AppStore!
Jump n roll through aztec tombs. Find your way through atmospheric and dangerous labyrinths – animated beautifully by the realtime physics engine.
Download Tomb Roller for free at the AppStore
** AMAZING GAMEPLAY, GRAPHICS & SOUND **
Featuring lots of challenging and handcrafted levels through an atmospheric aztec world, Tomb Roller has gorgeous graphics and cool sounds!
Every level has its own individual character …but beware! …Watch out for enemies, water, fire, abysses and a host of other punching, exploding and shooting obstacles …they'll all kill you!
Collect as much gold as you can, every 10 coins you get an extra life. This classic gameplay-mode is hard, you only got a limited amount of lifes. But don't despair, every fifth level is a bonus round where you can collect a lot of coins.